Liz Kidd | Stylist
As a stylist, Liz is passionate both about her craft and creating a personalized look for your lifestyle. Liz prides herself on a cut that can evolve with time, whether it be a sleek bob or a fresh long-layered whimsical style.
Liz loves creating special occasion hair for weddings and life events. She is also skilled in creating looks by adding length with hand tied extensions, or smoothing your locks with a custom Brazilian Blowout.
Liz has been a stylist for 18 years at different salons where she was given the leadership opportunity to educate & guide her teams to their own success. It was during this time that she was able to travel the world and be inspired by other amazing stylists.
As the owner of Evolve salon, Liz wanted to create a place where stylists could perfect their craft in a positive and creative environment. A place where guests feel that same excitement and energy, and leave our salon feeling their best!
When not in the salon, Liz is spending time with her teenage son, her fiancé Bryan and her dog Rocky. She loves cooking, watching reality tv and traveling.
Mariah Penn | Color
Mariah is a Master Colorist with over a decade of experience in the beauty industry. After graduating from her professional training in 2009, Mariah spent 10 years perfecting her craft at another Twin Cities salon.
Mariah has a deep knowledge of the hair coloring process, having worked with all different hair types over the years. She is passionate about creating a look that evolves with you. She has an incredible eye, and artistry for detail when it comes to formulating any hair color; creating a look that is natural and personally unique to her clients. Mariah loves creating dimensional colors especially lived in blondes, natural reds, and rich brunettes. In addition, Mariah also offers hand tied extensions.
When she's not in the salon, Mariah loves spending time with her husband and daughter, cooking, gardening, and being outside.
Sam Steinbach | Color
Before joining Evolve salon, Sam started her career training in Duluth, Minnesota followed by advanced education at Vidal Sasson in Chicago, Illinois. Sam then spent the next 7 years following in her Mother's infamous footsteps at another Twin Cities salon.
As a colorist and in her day-to-day, Sam loves to keep up with the latest trends as well as creating timeless looks. Sam excels in the balayage highlighting technique that will enhance your natural hue, in addition to bold color that is sure to make you stand out. She also specializes in adding length and volume to your hair by leveraging Bellami hand tied extensions. Sam is as passionate about her work as she is to her Bravo TV network and her pets.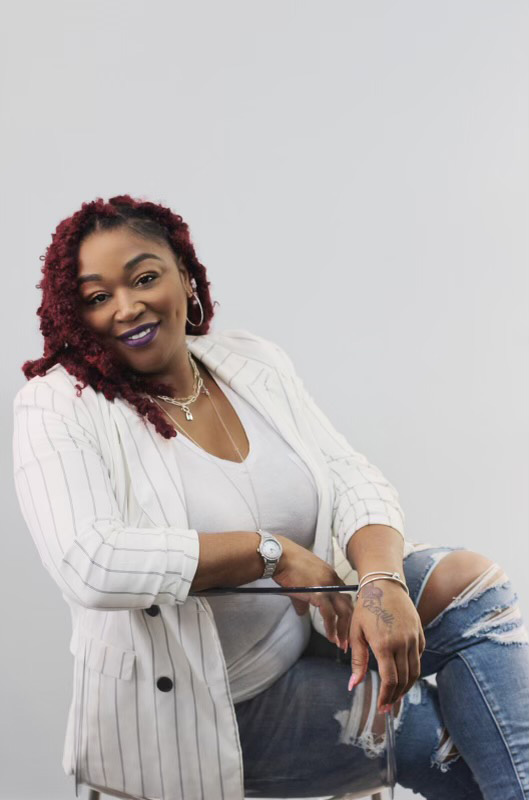 Kei Haskell | Stylist
Kei is a third generation licensed Master Stylist from the Kansas City metropolitan area. She has been servicing men, women and children in the salon for over two decades. Kei educates her clients by promoting and maintaining hair health.
Throughout all walks of life, she takes pride in her Grandmother's words: "Hair is hair, it's just different textures!" Her goal is to help client's Evolve by creating a truly relaxing experience to escape life's many challenges and stressors.
Specialties include: Men's hair, Women's and Children's precision and razor cutting, Natural hair services, braiding, extensions, special occasion up-do's, and facial waxing. Chemical services including: relaxers, Brazilian Blowout treatments, and hair coloring.
Treat yourself. Evolve with Kei and experience her creativity and relaxing shampoo massages.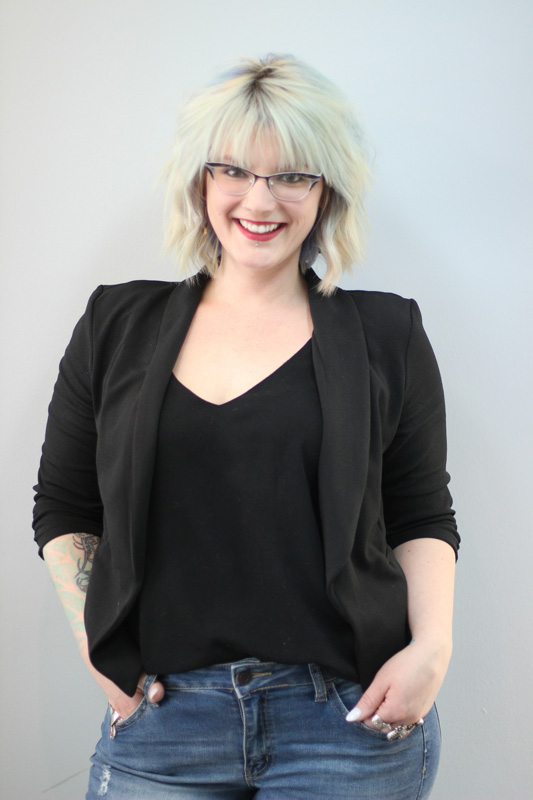 Ginger Hexum | Stylist
Ginger is a Master Stylist that specializes in creating a custom cut and style that is tailored just for you. Her specialty is creating styles that can be easily maintained and recreated at home. She loves creating classic shapes with a fun and modern twist.
Education has always been a strong passion for Ginger. After graduating cosmetology school in 2008, she immediately began an advanced training program at a prestigious Twin Cities salon, where she was a part of their educational team for over 10 years. She is continuously perfecting her craft, having trained with stylists such as Nick Arrojo, Faattemah Ampey, and Tippi Shorter Rank.
Ginger loves serving the next generation of stylists by leading seminars, and demonstrations at local cosmetology schools. She develops customized hands-on classes that not only educate, but inspire future stylists. Her charismatic personality will welcome you and make you feel right at home in our salon.
When Ginger is not in the salon, she can typically be found frequenting local scenes around the Metro with her boyfriend and sweet beagle, Margie.
*When booking services, please book your color service before your cut so that we can ensure we have the time we need to best serve you.
We look forward to making you the best version of yourself!